Wohooo!
Petco released a coupon for a free can of Wellness Signature Selects!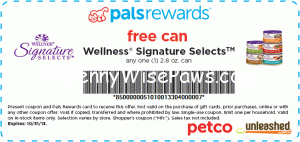 This means we will have two Freebies to get to 25$ and it also means
we will get to try a new variety of some of our favourite wet food for FREE, YAY!!!
Go here to print and print or save quickly, as Petco loves to change links on us!