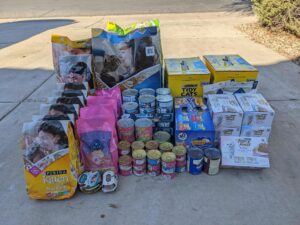 Wow, it's 2022!! How did that happen? We hope all our furriends had a wonderful holiday season and a purrific start into 2022!
Our winter visit in Phoenix is coming to an end and we wanted to send the human to Meowness one more time before we leave town for a while.
The items in this picture retail at $376, crazy for such a small amount, right? Pet food prices are out of control. Our out of pocket expense after coupons was $96.
Deals are definitely harder to find these days and on top of that it has gotten really difficult to find stock now.
A lady saw the human buy some of the canned cat food and commented "When you find product, you gotta buy it, right?"
So very true. We hope the human got us stocked up as well. We have less storage space now, as we moved into a new RV, but we insist on pet food storage being a priority!
After all, we call the shots here! Meow!