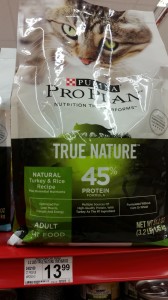 Have you already printed the 10/1 Purina Pro Plan True Nature coupons, we posted a few days ago?
If not, you better get on these soon, because we have a 5/1  Purina Pro Plan True Nature PETCO store coupon to stack, making the small bags FREE!
This one expires 9/30 so make sure to print rather sooner than later, as Petco has been notorious for pulling coupons once a deal gets too good to be true!
When shopping at Petco, make sure to hand over the manufacturer coupon FIRST and then the store coupon. The store coupon will adjust itself down automatically,
so you'll just pay tax!
If you want to avoid discussions, you can also get the slightly bigger bag, which is on sale for 21.59 and pay only 6.59 after coupon stack before tax
It feels like it has been FUREVER since we had free cat food, but finally we are finding some deals again.
Between that and the free litter we bought at Petsmart, we are sure the Meowness kitties, will be happy!
Happy Shopping!