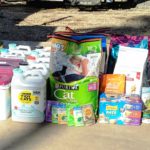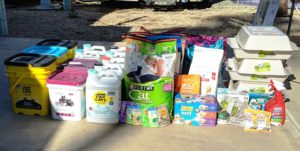 Today we sent the human to Meowness to deliver the items in the picture to our buddies over there.
It's a comparatively small donation, but the humans just got back from out of town, so we missed a couple of weeks worth of shopping opportunities. Yes, we know, HOW dare they??? Something about female human's dad's birthday something milestone something…
This is also the reason why we have not posted in the last two weeks.
At least we had a really great pet sitter, who took good care of us. We miss her already.
Where were we?
Right, Meowness donation.
Well, we got caught up a bit during the last couple of days, by sending the human shopping to our favorite Petco.
Big shout out to the team at our Petco, they are just awesome!!
Also did you know, Dollar Tree sells litter boxes? They are $1 each and make great donation items for the shelter. Dollar Tree also carries litter scoops. Great deal!
This donation is valued at about $376 incl. tax and our out of pocket cost was $97. Not too bad, but we certainly have done better in the past.
This wraps up our donations for the year, but the Meowness kitties still need all the help they can get. If you want to help them out as well, please head over here to donate.
Also please remember, we will be donating any money we make from this blog to Meowness. So if you want to help, please check out this page for suggestions how you can support this cause at no additional cost to you.