Last night after dropping off the donation at Meowness, we realised Target currently has a stellar stack on certain Purina items, including cat litter and cat chow.
Of course that was bound to happen just after we announce a break from shopping.
We just could not resist and had to send the human shopping, as we happened to have some coupons that work great with this deal! Thank cat for friends who send us coupons and thank cat for friends who allow us to store some of our stuff until we are back in town!
So if you can make it to Target today, here it goes!
Load this "secrect" Carthwheel deal onto your Target Cartwheel. You have to log in from a desktop, you won't find them in your mobile app.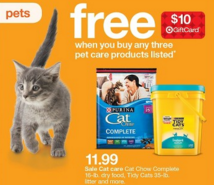 Tidy Cats and Cat Chow among many other items are part of the buy 3 get $10 Target gift card deal.
This is an instore deal, the $10 gift card prompts automatically, once you have 3 qualifying items in your cart.
Buy 2 Tidy Cat and 1 Cat Chow.
Use
FREE $5 Gift Card wyb 2 Purina Tidy Cats  Litter, TQ 7-24 RP (exp 8/13)
$2/1 Purina Cat Chow 13 lb+, MQ 5-15-16 RP (exp 8/30)
2x $2/1 Purina Tidy Cats Clumping Litter MQ, 7-31-16 RP (exp 10/31)
Have Cashier scan your Carthwheel!
TOTAL 35.97
= – $6 in MQ – $6 CW for litter – 1.80 CW for cat chow = 22.17
earn $5 + $10 in GC's = net Total $7.17 in tax
Now if you are lucky and get Sunday's inserts early, you may be able to double the transaction and stack
this coupon from TOMORROW's inserts on top of everything
FREE $5 Gift Card wyb 2)Purina Dog or Cat Food Dry Bags or Wet Variety TQ 8-7 SS (exp 8/27)
making the deal even sweeter (should be around 4.34 for SIX items!!!)
We unfortunately did not have Sundays coupon yet, but we did have some $3/1 litter peelies and $3/1 any Purina item, that we could use. So we ended up with even less oop. Definitely check your coupon stash!!
At these prices we just HAD to send the human shopping.
Other (lower value) printable coupon options for participating items

$1.00 off 1 Purina Tidy Cats cat litter
$1.00 off 1 package Purina Tidy Cats cat litter
$1.00 off any 3 Friskies Fancy Feast cat treats
$0.75 off one Purina Friskies Tender Crunchy Combo