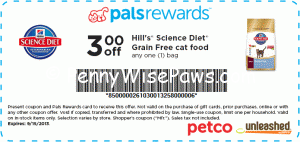 Yay we have a NEW Science Diet printable PETCO store coupon for HSD Grain Free cat food!
You may wonder what's the difference from the one we used all along?
This one is for the Grain Free variety only, wheras the previous one
is for any HSD dog or cat food!
That means, you could use ONE OF EACH in a future Petco transaction, because they are DIFFERENT!
Why is that important? They won't expire until September and thus will make great stacks for those of us,
who have HSD Manufacturer coupons, hopefully we will have printabales available again by then!!
It will be VERY EASY to get to 25$ in cat food for the 5/25 September coupon event!!
So make sure you print or save those RIGHT MEOW, as Petco loves to changes links on us!!
Be prepared, September will be here before you know it!