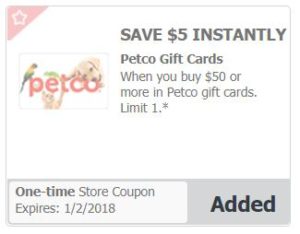 If you are a Safeway shopper, check your Just4U account. We received another Petco gift card deal today: Save $5 wyb $50 in Petco giftcards, limit 1.
This coupon can be loaded to your card and redeemed through 1/2/18.
We are really happy with all the Petco gift card deals lately, because we have been shopping at Petco a lot, actually mostly, because we have a great Petco nearby with wonderful cashiers and managers who happily take our coupons, which makes all the difference.
Our Petsmart cards are getting a little low, so we could use a Petsmart deal as well at some point.
This deal, is not as good as the gift card deal directly at Petco, that can be had on 12/24, we wrote about that here,
but if you can't make it to Petco on the 24th at least this is an option to get a little discount on a gift card.
We like those grocery store deals, because Safeway has double reward points on those cards, which now can also be redeemed in store and not only at the pump (check your app for more info). So we'll earn at least 90 Safeway rewards points for this offer and will receive 6% cash back for using our  American Express Blue Cash preferred card, that's like getting another $2.70 off plus the gas rewards. Not the best deal ever, but a decent deal, if you use a lot of Petco gift cards.
If you don't have an American Express Card, we highly recommend the American Express Blue Cash preferred card, which gives you 6% cash back on groceries, as well as 3% cash back on gas, among many other things.
If you'll use the above link to sign up for this card, we may receive a commission, which we can then use to help more rescue pets. So thank you if you do!
Happy Shopping!!