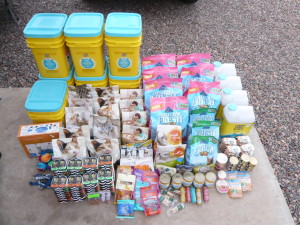 Today we sent the human to Meowness with our first donation of 2016! It really was about time!
Since our move we did not have a ton of time to send the human shopping, but we finally managed to get caught up a little bit! Ludwig, Cali and their human also contributed a bit to help us out! Thank you Ludwig, Cali and Conny!
The items in this picture are valued at $ 611 and our out of pocket cost was roughly $119.
As always Meowness has lots of adoptable kitties and the human got to meet the adorable newcomers Boots Wellington and Penelope von Cuddle. Those cuties are getting spayed and neutered in the next few days and will be up for adoption real soon.
If you are looking for a snuggle buddy or two to be your Valentine, these two would absolutely be perfect for the job!
With all those cuddlemuffins requiring vet care and supplies, Meowness can use any help they can get and if you'd like to support them with a donation, you can do so by clicking here.