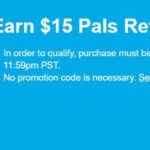 Petco currently has a deal on the purchase of two large bags of pet food:
Earn $15 Pals Rewards dollars when you purchase 2 large bags of dog or cat food
We have had this deal in the past and from experience the reward dollars will show up in your account a couple of days after purchasing. In case they don't, this is usually easily fixed by chatting with customer service.
If you order items for a rescue that uses some of the cheaper brands, like for example kitten chow, and you wanted to just send them two bags really quickly, you'd pay like 13.99 each and get back $15 in rewards, that you then could use on other items on a future purchase, which would make this a a net of $13 for two bags. Not so bad in our book.
Another good option would be Taste of the Wild dog food, if that's a brand you use. At $48.99 for a 30 lb bag, this brand is on the pricier side, but our store has it on a buy one get one free promo through 12/25 (only 28-30lb bags). So if it's on sale at your store as well, you'd be getting two bags at that price and $15 off in rewards, netting you those two huge bags 33.99, which is a great deal for that price.There may be coupons out too, we know we have seen some recently. We have not seen the BOGO deal online though, so you'd need to check in store.
We'll probably send the human to the store tomorrow, to see if we can sweeten the deal with some coupons we may have and get a few items for either us or the kitties and dogs at the shelter.
Happy Shopping furriends!
Here's the fine print for this offer:
Earn $15 Pals Rewards Dollars with the purchase of two or more large bags of dog or cat food
– In order to qualify, purchase must be between Saturday, December 8, 2018 to Sunday, December 9, 2018 at 11:59pm PST.
– Valid only on the purchase of any two 18lb. or larger bags of dry dog food.
– Valid only on the purchase of any two 8lb. or larger bags of dry cat food.
– No promotion code is necessary. The $15 Pals Rewards will be available in your account within 14 business days of the qualifying purchase.
– Limit one per customer for the duration of the promotion.
– For more information on the Pals Rewards program, as well as Frequently Asked Questions, please click here.
– Promotion Exclusions: Repeat Delivery orders; PetcoOne and WholeHearted Memberships; Out-of-stock items, Donations, the purchase of Petco Gift Cards and eGift Cards; and applicable taxes. Additional exclusions may apply and will be noted on the Product Detail page and/or Shopping Cart.
– Petco.com charges applicable tax on all orders shipped to states in which Petco has a physical location.
– Promotion cannot be redistributed or used in combination with any other offer.
– Petco.com in its sole discretion may refuse to redeem any Promotion that it believes in good faith to be fraudulently or improperly obtained.