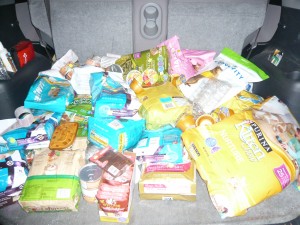 The human was not feeling real good on Saturday, so we took turns in giving her purr therapy and cuddle sessions!
We did not get to send her out until much later in the day, but finally she headed to the store early evening.
Luckily our favorite store still had most of the items she saw during her last shopping trip.
We got:
Large bags kitten chow 7.99  use 1/1 from 4/27 SS or 2/1 peelies
Small bags cat chow 1.98 use 1/1 from 4/27 SS
Goodlife medium size bags 2.98 use 1/1 blinkies
Goodlife small bags 1.98 use 1/1 blinkies
Large bags of Meow Mix 3.98 use 1/1 printable or 1/1 insert from 6/1 RP
Small bags Iams 1.98 use 2/1 printable
Wellness pouches 0.38 use 1/1 prints from newsletter
Wellness 5.3 oz cans 0.48 use 1/1 prints from newsletter
Blue buffalo cans 0.64  ask store manager for 0.50/1 coupons
Blue buffalo longevity small bags 10.99 use 5/1 flyer found in store (ask store manager) stack with calendar 4/1
Royal Canin medium bags 4.98 use 5/1 printable coupon
Purina One small bags 2.18 use 1/1 from 5/4 RP
Purina One Beyond medium bags 3.98 use 3/1 peelies if you have them or 1.50/1 from inside packages
Meow Mix tubs 0.18 use  1/6 printable or 1/6 insert from 6/1 RP
Meow Mix 12 packs 2.18 (be warned the 1/1 prints or inserts beep on these)  use 1/1 printable or 1/1 insert from 6/1 RP
Friskies small bags 1.68 use 1/2 from 5/18 RP or  1.50/3 from 3/23 SS, or peelies on bag or 1.50/1 from writing to Purina
Friskies cans 0.30 (they were out of the 0.08 ones 😉 ) use 0.50/6 from 5/18 RP or 0.50/6 peelies
Iams cans 0.18 1/3 printable or 1/1 peelies or B2G1 peelies
Iams variety packs 4.98 use 1/1 peelies
We had coupons for all of those items, many of which were insert coupons or printable coupons!
We paid about $10 for everthing pictured, as the human had some great stacks for Petco store and Flyer coupons, so we are quite happy!
As markdowns may vary by store, we suggest you clip everything from the last few weeks (don't forget to go back as far as 4/27 to the Purina insert) and head to the store with any and every coupon you may have.
Several of the bags even have coupons on them, so keep an eye out!
Happy Shopping!