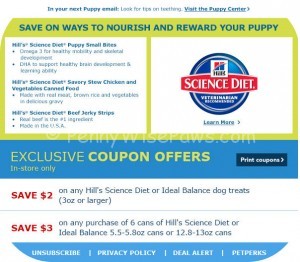 Petsmart will send their Petperks members coupons on a regular basis. So if you are signed up with them
go ahead and check your email. We received one today!
If you have a card you can go register it here, or sign up for a new card (they will let you print a temporary
paper card, the original one will come in the mail within a couple of weeks).
Some emails are the same for all Petperks Members, others are specific to your past purchases.
We received more Science Diet coupons today, which is great and gives us more options to shop. Most product
related coupons we receive from Petsmart are in fact Manufacturer Coupons, we only receive store coupons on very
rare occasions. Sometimes they do send us great postcards in the mail as well.
Back in July Petsmart sent us both a 5 off  25 and a 10 off 40 coupon!! We love to send the human shopping when we receive these!!