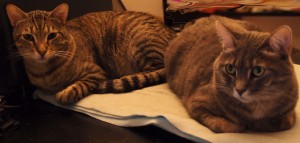 Yes, today is World Cat day! Believe it or not, but cats have a day of their own!!
Of course in our house, every day is cat day 😉 we rule!!
The International Fund for Animal Welfare (IFAW) and several other animal rights groups came up with
this brilliant idea in 2002!!
Cats have been dominating the world for over 9500 years and it only took humans 9489 years
to realise that having an International Cat Day would be a good idea!! Yay way to go!
That's why we are in charge and not the humans!!
It is no coincidence that humans worshiped cats in ancient Egypt! Rightfully so!!
Those ancient Egyptians were really smart people! Plus they built Pyramids, probably
according to plans laid out by kitties…we cannot prove this of course…but we wouldn't
be the least bit surprised if one of these days someone deciphered some hieroglyphes describing just that!
According to various widely recognized and internationally accepted statistics (not only the ones that we massaged ourselves),
cats are the most popular companion animal to humans. Of course we are!!! Sorry doggies!!!
Happy International Cat Day to all of our friends, two legged, four legged and those with fins!