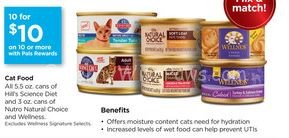 Petco has certain brands of canned cat food on sale this month.
They are 10 for 10 and you MUST buy 10 to get the price
The brands are
Science Diet
Nutro Natural Choice
Wellness
If you can round up enough Wellness printable newsletter coupons or get some coupons from writing to the company, you can score Wellness cans for free after coupon.
We also have a bogo wellness coupons from a mailer that Petco sent us and we have seen bogo Nutro coupons from the Nutro rep in store. So if you can find enough of those,
you will be able to get a great deal on cans!
We only have two wellness coupons left, but we also have a couple bogos and maybe, just maybe, we'll luck out and find a couple more of the nutro ones in stores.