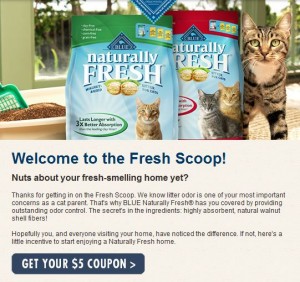 If you are subrscriber to Blue Buffalo, do check your email. Our human was out of town for a few days, so we are just catching up on a few things now and realised, that we received a $5 printable coupon for Blue Naturally Fresh litter in our email a few days ago.
You can also sign up for their emails here and may still be able to print it.
Naturally Fresh litter is on sale for 7.49 at our Petco and we have a 2/1 calendar coupon to stack, making it 49 cents a bag. Great deal in our book!
Prices at Petsmart start at 8.99, but we have seen this litter as low as 6.49 at Petsmart not too long ago, if you want to hold on to your coupons for a little while.