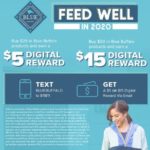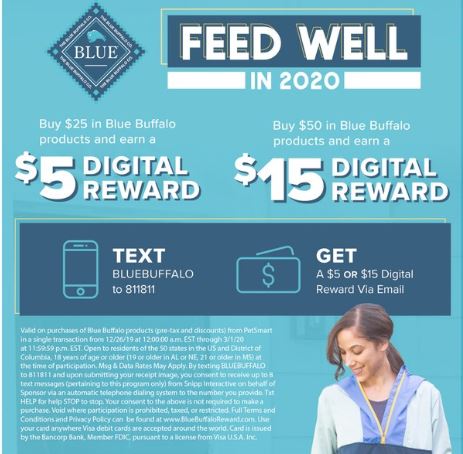 When shopping both at Petco and Petsmart lately the human saw flyers and posters for a Blue Pet food promotion.

Buy $25 in Blue Buffalo products earn a $5 digital reward
Buy $50 in Blue Buffalo products earn a $15 in digital reward
The little flyers say "Participating Retailers" so this may be working in different stores as well.
I also says "Text BLUEBUFFALO to 811811".
We are getting coupons for Blue Buffalo this weekend in the 1/5 inserts and some people get those early. If you can get a hold of these coupons, that may make for a real good deal.
I seems like you have to text them and then submit a picture the receipt. We happened to purchase a large bag of Blue Buffalo for a donation a couple of days ago, so we'll get the human to submit the receipt and report further.
We wish we had known about this before buying, because the dog food was about $40, had we known about that promo we could have added a few cans.
Anyways, this is a pretty short timed promo 12/26-1/3, update, duh: the human read that wrong, the promo goes until 3/1/2020 but if you purchased this products recently, you may be in luck.