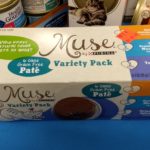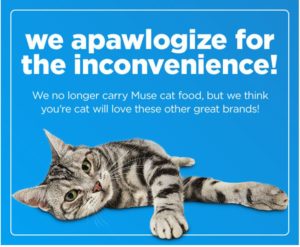 We recently received an email from Petco, that they won't carry Muse cat food any longer. They human had picked up a few deals on Muse a few months ago for our donations, which is probably why they had our email address linked to the product.
When we sent the human shopping for our food a couple of days ago, she saw tons of markdowns at Petco, especially Muse, both dry and wet food. With some varieties of wet food starting at 30 cents, the wet food variety packs for $ 3.48 and the smaller bags of Muse starting $3.48 (prices and offers may differ at your stores) it's certainly worth checking the markdown section.
We still have some coupons in our stash from previous Muse purchases (if you ever bought the small trial bags, they had coupons inside and some of the cans had BOGO peelies on them).
You may also have printed some from coupons.com or directly from Muse.
Some of those prints are $3 or $5 off dry food and $2 off 6 wet food cans or tubs.
Using these coupons, we can score some of these markdowns for very cheap or even free.
So if Muse is your brand or choice, we strongly recommend checking out your Petco rather sooner than later!
Happy Shopping!