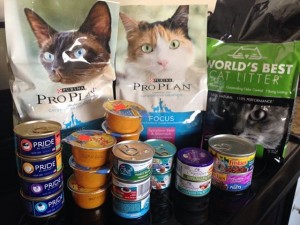 Ludwig and Cali's human is so much better trained than ours!! She takes pictures of her shopping trips and posts them for everyone to see!!
We are jealous! We rarely can get our human to do that!! But we are very happy that Cali and Ludwig let us post their picture!!
We think they did pretty awesome!!! $ 51 worth of pet supplies for only $11 out of pocket!! Maybe they should help us retrain our human!!!??
We are pretty sure they will get their share of the goodies and the rest will probably go to Paw Placement, where their human volunteers!!
Awesome job putting that human to work, guys!!! Purrrrrrs!!!