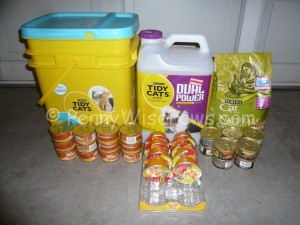 Last night we had the human do the Target deal using the 10/40 TQ from this weeks ad.
This is what we got:
1 TC 35 lbs litter = 12.99 used 5/1 TC litter coupon (human traded for this)
1 TC Dual Power jug = 6.24 (markdown) used 5/1 TC litter coupon (human traded for this)
1 Purina Cat Chow Naturals = 4.79 used 3/1 Cat Chow Naturals print
12 Iams cans @ 59 cents ea = 7.08 used 4x 2/3 Iams prints (NLA)
8 Meow Mix @ 51 cents ea = 4.08 used 4x BOGO MEOW MIX prints (NLA)
10 Sheba cans @ 50 cents ea = 5.00 used 1x B5G5 Sheba Premium Canned Cat Food – 03-09-14 RP – valid up to $3.25
= 40.18 plus tax before coupons and only $4.08 plus tax oop
We don't recall the tax amount exactly, but the human roughly paid around $6 oop as we used a $5 GC and some spare change.
We were lucky as our cashier let the Meow Mix BOGO Qs autodeduct the max value of 2.60, had she put in the price manually we would have paid 56 cents more.
She did put in the real price for the Sheba cans though (2.50)  instead of letting it autdeduct to the 3.85 value, YMMV!
We were really happy with this result, lot's of cans and a nice amount of litter for our friends at Meowness!!
We have two more 5/1 coupons that expire 3/31, so we are either sending the human to Target again sometime this week or we'll see if our Petsmart will let us use the Target coupon as a competitor coupon.
Either way, we are planning on getting a bit more litter in the next few days!
Are you braving Target or any other stores to get pet supplies this week? How did you do? What did you get? We'd love to see trip pictures!!!
In case you need some inspiration, here are some cat scenarios and dog scenarios we posted a few days ago! Good luck!