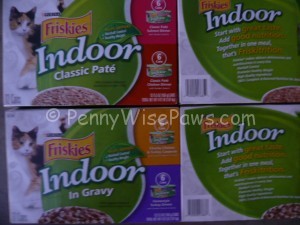 Unfortunately the human put away all the pet food we shopped for today already, so we have no trip pictures to share.
But we wanted to at least share this deal, that we spotted today: 12 packs of Friskies Indoor, normally 7.98 are marked down to $3 at our store.
They only had one pack left, but we had a 2/1 any Purina item coupon, that made them only $1.
We sent the human to another store to check for them. That store had four of them left, tagged at 7.98. The human asked the cashier to check for the price and low and behold, they did ring up for $3.
So we had her get all four of them!
We suggest to see if you can find these, see below for the UPCs. There are two varieties "pate" and "in gravy".
The new 12 packs have different looking packaging, which is probably why there were marked down!!
If you can find them they are a good deal even without the coupons, but here's an insert coupon you could use:
1$ off Purina Friskies Canned Cat Food, any (24) 5.5 oz cans, (2) 12 ct or (1) 24 ct variety pack – 09-08-13 SS
so you could get them for 2.50 after Q or if you are lucky and have the 1/1 or 2/1 any Purina item, even better.