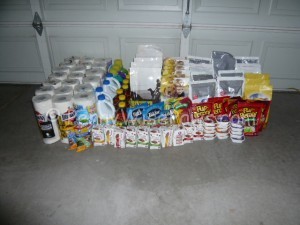 On Saturday we sent the human to AZSDR with this donation. They go through a lot of Bleach and Pinesol so we always try to have some in each drop off in addition to the food and treats.
We really need Bleach and Pinesol deals again soon. Luckily we had a few great Papertowel deals recently. Paper towels are also high on their wish list.
Those guys were superbusy and luckily had a great adoption Saturday, so lot's of doggies from AZSDR are going to spend the night in their new forever homes.
They are bursting at the seams though, so if you are looking for a new furry family member, now is a good time to go have a look at AZSDR.