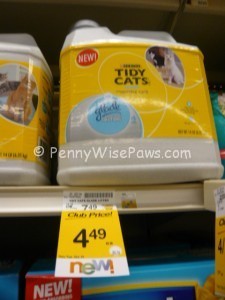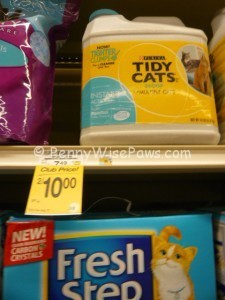 Safeway currently has the 14lb jugs of Tidy Cats clumping litter for 4.49, only the Glade variety, the other varieties are $5. We have a coupon for
$1/1 Purina Tidy Cats, cat litter, 14 lb+ 07/28/2013 RP Insert (exp 10/28/2013) that can be used on those, making them 3.49 or 3.99 respectively, which is a good price if you need litter!
We can often get litter deals for the 20lbs jugs for $5 at SW (20 cents/pound or less after Qs), so it's not smoking hot, but if you need litter now it's a good deal at 25 cents/pound. If you have a 5 off 20 on your J4U account, it's a nice way to get to $ 20 really easily!
There are currently many freebies at SW, that you can use as padding to get to those $20, like free Dawn dish soap and Chobani Yogurt. Please refer to the awesome matchups on  The Centsable Shoppin' for other SW deals that can help sweeten you deal on kittie litter!