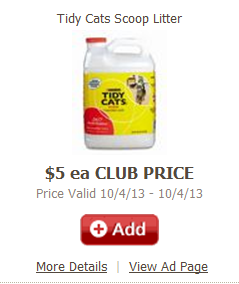 YAY! Safeway has the Tidy cats litter on the $5 Friday deal again!!
You can extend the deal through Sunday by loading it to your card onto your J4U account in case you don't want to head to the store on Friday!
We currently have insert coupons for these:
1/1 Purina Tidy Cats Brand Cat Litter, any 14 lbs or larger – 07-28-13 RP
Some of you might even have 2/1 peelies or coupons from writing to the manufacturer.
There are also peelies out there for 2 Free cans of Fancy Feast wyb TC cat litter, so check your peelies from previous purchases if you have some of these to sweeten the deal!
Don't run into the store just yet, this deal will only start on Friday 10/4!! We also suggest to double check your J4U account before heading to the store on Friday to see if you have one of the $/$$ ecoupons!! If you get a 5/20 you can score these really cheap given the other freebies we have at Safeway this week (Sparkle paper towels, Mojo Cereal bars, Yakisoba etc.).