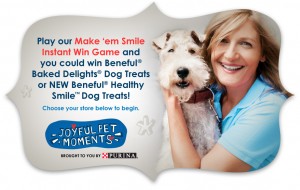 We currently have two online games, where you can win free pet food.
The first one, Joyful Pet Moments, requires a Kroger Stores loyalty card (Kroger, Frys, FredMeyer, Ralphs etc.) and your prize can directly be loaded on your card.
http://kroger.softcoin.com/programs/kroger/purina/
The second one requires you to register with Purina, but you have a chance to win coupons for a year worth of free pet food. Those would really come in handy for our deal shopping 😉
http://www.pureloveforpets.com/
You can play once per day through August 13th for dog and cat food.
Thank you Rose247 for the reminder!