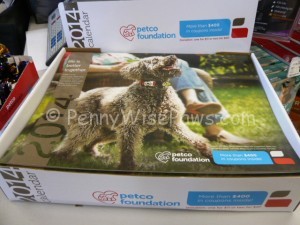 We sent the human to Petco today to use up some of the coupons that expire 10/31 and look what she spotted: The 2014 Petco calendars!!
They are $11 each or two for $20!! We are thrilled!!!
There were rumors that Petco may not have any in 2014 so we are really glad that rumor proved to be untrue!! That's pawesome news!
The human bought us a calendar and we will have her type up all the coupons, once she gets a minute, but we wanted give you all heads up, so you can start watching out for these calendars right meow!
It has $400 worth in coupons and whereas not all are superhot coupons, there is an ENTIRE page of freebies, that will make buying the calendar worthwhile in any case. These freebies make for grrrreat filler items when you need to get to $25 to use your monthly 5/25 coupons!!
In addition to that the Petco calendar coupons do stack with manufacturer coupons so some pawesome deals can be had throughout the year!
We promise to have the human type a full list pretty soon!