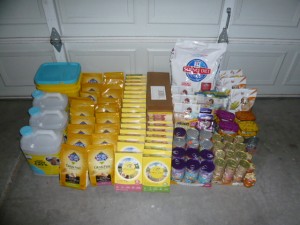 Last night we sent the human to the Meowness kitties to deliver our October donation.
This donation was valued at $ 546 and our oop was $87! The grain free Nature's Recipe bags inflated the value a bit. They are in fact pretty small bags,
so this is not really a bigger donation then usual, it actually might be a bit less in terms of quantity than previous months.
Yes, in addition to the cat food and litter, there is some SD and Beneful dry as well as Beneful and ProPlan wet dog food in their.
The Meowness kitties also help out dogs in need! They are just amazing and we are glad, we get to help them out a little!!
They have a few kitties with expensive medical needs right now, so they clearly need all the help they can get!
If you want to help as well, you can do so here, even a dollar or two can go a long way to help pay medical bills.
Or you can help at no cost to you by voting for our buddy Olivia here. There are three days left and  Olivia is way behind in the contest,
but if we can help her out with some extra votes, she could win some funds to help pay for medical expenses for the Meowness kitties!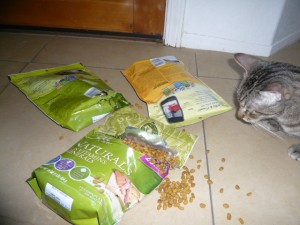 And of course some of the cat food did get a personal quality check from Linus!! Somebody has to make sure this stuff is ok to feed others, you know!!
Linus even takes on the task to inspect dog food on occasion!! What can we say! It's a tough job, but somebody's got to do it!