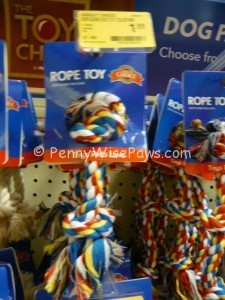 If you have not used them yet, you have one day left to possibly score free toys and cheap dog beds and leashes at Petmart.
Petsmart has recently released some new coupons valid through 9/15. You can print two per computer and can only use one of each kind per transaction.
If you are chosing a toy that costs a few pennies less than $2, please make sure you have other items in your order or have the cashier mark down the coupon (can be tricky), because the register will not allow a negative balance.
In case the direct link won't work you will need to copy and paste the link below into your browser: http://pets.petsmart.com/promotions/new-products/_coupons/coupon.shtml?siteID=.7WaaTN6umc-QED3QKRCGknqBaIBZe3Ocw
$5 off any dog bed (x 9/15)
$2 of any apparel item (x 9/15)
$3 off any collar/leash (x 9/15)
$2 off any toy ( x9/15)
$2 off any stain & odor or potty pad for dog (x 9/15)
$5 off wire crate or plastic carrier for dog (x 9/15)