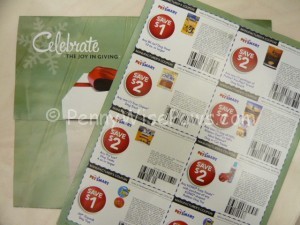 While getting some Tidy Cats litter and a couple of other goodies at Petsmart the human spotted this booklet with treat and toy coupons.
Most expire 12/31 but some are good until January and March 2014.
Some good deals could be had with these coupons on BF pricing, but because it's so late now, we figure it's a mute point to make a full matchup.
We would make sure to grab a couple of these, as they make for cheap toys and treats somewhere down the road!
Here's a full list of the coupons
$1/2 Milkbone, Pup-Peroni, or Milos kitchen steak grillers dog treats exp 12/29/13
$1/1 Dentastix dog treats 32 ct exp 12/31/13
$2/1 any Kong chewy treats or rawhide chews exp 12/31/13
$1/1 any nylabone holiday bone exp 12/31/13
$1/1 any Bill Jac dog treat 10 oz or larger exp 3/31/14
$2/1 any one package Purina ProPlan brand dog snack exp 12/29/13
$2/1 True Chews dog treat exp 1/31/14
$1/1 any bag of Hills SD or Hills Ideal Balance dog or cat treats exp 12/31/13
$2/1 Pur Luv dog treats 4oz or larger exp 12/31/13
$2/1 any Kong easy treats with purchase of Kong shaped rubber dog toy exp 12/31/13
$1/1 JW iSqueak dog toys exp 12/31/13
$1/1 any JW crackle dog toy exp 12/31/13