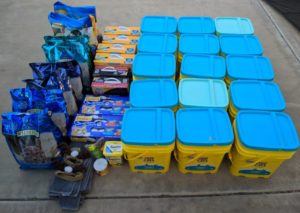 Whew, we hope you all head a wonderful Thanksgiving!
As much as our human despises Black Friday and all it stands for, there's no way around sending her to the pet stores to shop for our buddies at Meowness.
The deals where not really great this year, as we mentioned in our preview post, but we had a few coupons and discounts that helped us mitigate cost a little bit.
The items pictured above retail at a ridiculous $575 incl. tax and we paid about $189 out of pocket.
Yeah, we know, compared to previous years, that's kinda meh!
We don't know for sure, but we think male human may have jinxed it. We overheard him bragging to a friend about our deal sniffing capabilities a few days before Black Friday. So maybe that was the reason for the lack of great deals? At least we still managed to get a good amount of litter for Meowness, which is what they are always short of.
We had the humans head to Meowness right away, after female human was done shopping to drop it all off!
We hope there'll be a few more holiday deals popping up in the coming weeks, so hopefully we can get together another donation before we leave town again.
Not pictured is a cat carrier that our friends Mojo and Lola donated, which we picked up on the way to Meowness.
Thank you guys! Many purrs to you!
We also want to thank Cole and Kissa for the bag of toys (in the picture in between the treats and the towel).
Many purrs and thanks also to those who helped us out with coupons, we could not do it without your support!
The human will probably not be up to setting foot in any other stores, anytime soon. But as soon as we see pet deals,
we'll do our best to share them and send the human shopping!!
If you'd like to help the Meowness gang as well, they are currently running a FUNDRAISER. You can click here and find more details, any donation, no matter how small, counts and helps save lives!! So please consider sending them a few $$ if you can!! Thanks!!
That's it for now, we are off the regular scheduled cuddling!