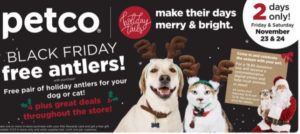 We normally write about the pet store Black Friday Deals much earlier in the month of November,
but since receiving the ads a couple of weeks back, we have been completely underwhelmed with the "deals" this year.
We had the human go through her coupon stash and sort through the expired coupons and realized, we hardly have any good coupons this year either.
So it's a bit meh to be honest.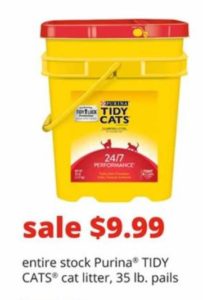 Petsmart has the Tidy Cats for $9.99 on BF, which is higher than in previous years, plus we don't have any good coupons currently. Human has a couple of $1 and 1.50 peelies. So, compared to the current 13.99, we guess that's a bit of an improvement but not a knock your socks off kind of deal.
There a few Buy one get one 50% off deals in both stores, but no coupons out for most of these items. Maybe a few treats for the BOGO deals.
If you are in the market for a pet bed, cat tree or crate, you may be able to score one for 50% off at Petco.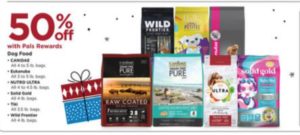 Petco also has some pet food brands 50% off, for which we have coupons in the Petco calendar, so it's worth checking them out.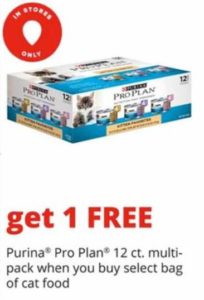 Petsmart advertises free Pro Plan wet food wyb select dry cat food, but the ad does not mention, which items qualify.
Our guess is, that it's probably ProPlan dry cat food, in which case we'll have $5/1 insert coupons  ($5.00/1 Purina Pro Plan Dry Cat Food, Any (Limit of 4 Like Coupons Per Household Per Day; No Cash Back) – SS 09-09-18, exp. 12/09/18) and may be able to score a deal.
We are a bit dissapointed by the lack of deals and coupons this year, so when we received a $15/60 Petsmart store coupon by email yesterday, that expires today, we sent the human shopping today already, as that coupon made the litter prices comparable to the Black Friday ad pricing already.
We'll still send the human and her skinny coupon bag shopping this Friday, hoping to do a donation drop off right away. But it will be by no means as glorious as in past years, MEOW!!!