Petco has started their Cyber Monday deals early: Cyber Week – Up to 70% off Crates & Crate Accessories!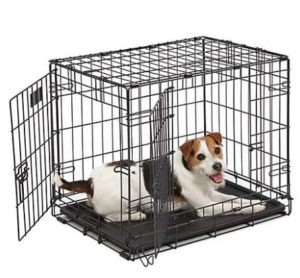 We were in the market for a small pet crate and the human managed to purchase this small crate for only $16.19.
We also had earned a $5 PalsReward for our Black Friday shopping, which brought it down to $11.19. Free Shipping to boot!
The X-S version of it is even cheaper, only $12.59, but that would not have worked for us.
These crates are normally 79.99 and 59.99 respectively, so we feel we got a great deal.
You can check out the cat toy deals here, cat beds here and cat furniture here.
Some of those smaller scratching posts are only $8 (normally 19.99) and the big cat trees, like this one,  are only $20 (normally 49.99).
We usually prefer to send the human to the store, but we hardly have any coupons for these things, so it makes sense to order these online.
Especially, if you'd like to order a few of these deals and have them sent directly to a shelter!!
It looks like those prices may be valid through 12/1, however free shipping NO MINIMUM is only available though 11/26, after that it will go back to orders over $49 only.
Happy Shopping Furriends!