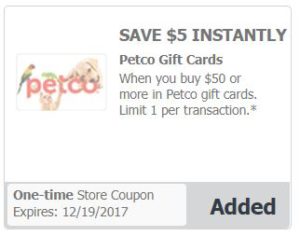 If you are a Safeway Shopper, go ahead and check your Just 4 U account to see if you have this loadable coupon for $5 off $50 in Petco gift cards.
We sometimes get better deals, but I have not seen one lately. Safeway will also give you double gas points on these, so $50 will get you 10 cents off a gallon for up to 25 gallons as well.
If you have a Amex Blue Cash Preferred, don't forget to use it for an extra 6% cash back, as gift card purchases at grocery stores, count for the 6% cash back at grocery stores! In case you don't have an Amex Blue Cash Preferred, we highly recommend you sign up for one, here is our referral link, in case you are interested!