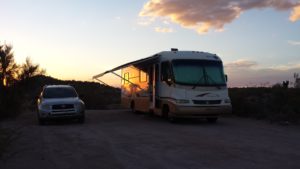 As we have mentioned here and there on the blog over the past months, there have been quite a few changes in our lives. As a result of these changes we spent less time blogging and deal shopping, although we still managed to drop off a few donations at Meowness.
So, we thought it was about time to write a bit about how what we are doing and how we have been.
The human sold our house a few months ago and a little later we moved into an RV full time with plans to travel the US with our human.
Before moving in, the RV was catified for us in various ways. We even received our own custom cabinet that holds the litter box, a drawer for supplies, a scratching post and a cat bed on top, for perfect cat TV watching!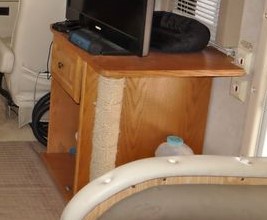 We were a bit skeptical at first about this whole "house that moves" thing. But the human did what she could to make it work. We lived in the house for quite a while until it started moving and even then it only moved for very short periods of time at a time, so we could get used to the experience.
At the beginning, the human also used a Feliway diffuser in the front area as well as both Feliway spray and Sentry Calming Spray for Cats on the bedding and around the RV each time before the motor was started. On top of that Linus is usually wearing a SENTRY Calming Collar for Cats while the house is in motion. Yep, the human wanted to make the transition as smooth as possible for us. We personally think she totally underestimated us and may have gone a bit overboard at first. We are a bunch of super cool chill kitties and she should have known better. Now she just uses the calming collar and the Feliway spray for longer rides. In any case, we appreciate the thought!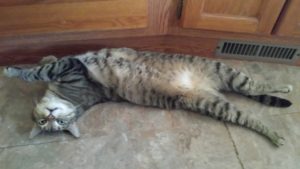 We luckily got used to the whole riding in an RV experience pretty quickly. When we hear the motor being started (we usually are warned by the calming collar coming out), we head right to the bed in the back of the RV and hide under the blankets. Emily sometimes prefers to ride on the human's lap rather than hanging out with Linus under the blankets!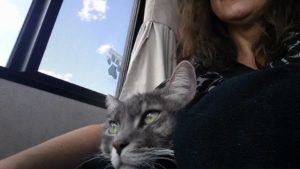 As soon as the RV stops, we come out and demand treats for our bravery and then hang out and chill, as if nothing ever happened. So far things have been pretty good. At the beginning we usually received calming treats as well, but now we're good with our regular favorite treats, or even better: chicken lunchmeat!
The changes in the CAT TV channels are amazing! And we truly enjoy all the new smells and experiences. The human leaves the screen door open for us whenever possible, so we can take in the sights, sounds and smells. We don't get to go out, but the humans brought along a kittie play pen for us just in case they decide to let us hang out outside in the future.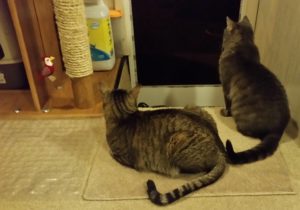 Being on the road means, we are less connected and that makes it harder to keep up with deals. We still have been posting some and will continue to do so, while travelling. We also plan to be back in Phoenix over Thanksgiving and do some deal shopping for our buddies at Meowness at that time.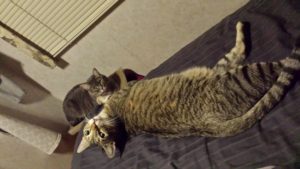 Until then, we are planning to share some of our adventures on the road and hope some of you'll be interested in those as well. We are also looking for ways to support Meowness whilst on the road, so if you have any ideas, please let us know!
This post contains affiliate links, which means if you purchase an item via one of these links this blog may receive a small commission. This is at no additional cost to you, so if you chose to use our links, thank you for supporting our blog.