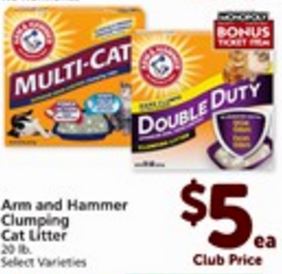 Safeway has A&H cat litter on the $5 deal again. We have not seen this in a while.
In the past they also included the clump and seal, for which we have higher value coupons out there.
Safeway also has a $5 of 50 coupon you can download in your J4U app, for additional savings.
PLUS they are currently running the Love your pet promotion, which we mentioned recently.
You can find 1/1 and 2/1 coupons in the 03/05/17 SS and we also have printables on the Clump & Seal website.
There is a new variety of A&H litter out right now and many of us have 2/1 and 3/1 coupons for that, but we won't know if that variety is a participating item in this promo until Friday.