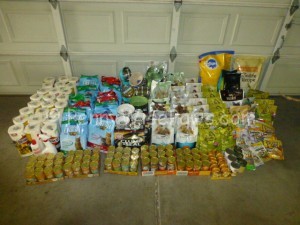 Last night we sent the human to Meowness with our Donation for August.
The items pictured are valued at $ 793 and our oop was roughly $ 168, which is low considering everything we got!
We had quite a few dollars in store money (or as Petco refers to them Palsrewards) to spend on items, that we usually have no coupons for.
So we got the Meowness kitties some bowls and enzyme cleaner from their wish list.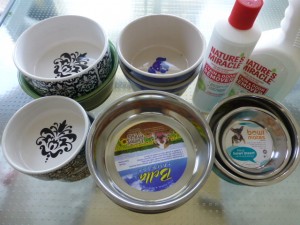 Those bowls were on markdown at Petco for 1.99-2.49 each! And yes, if you are spotting some dog food in there, that is on purpose!! The folks at Meowness help out dogs as well, so we always  include a little bit of dog food for the doggies they support!
While catching up with all the Meowness kitties, the human cuddled with our buddy Cody, aka the Mastersnuggler again!!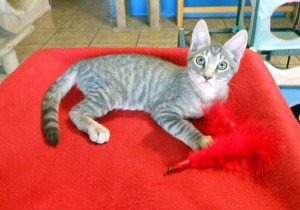 This guy is really trying to steal her heart!!! Someone please please please adopt him quickly, otherwise we are worried about the human to kittie ratio in our house!!
The human is totally smitten!!! If you are looking for a furry family member to provide endless entertainment with his funky kitten moves, Cody is your guy!!
Definitely!!
The Meowness kitties also recently took in Matilda and her four babies.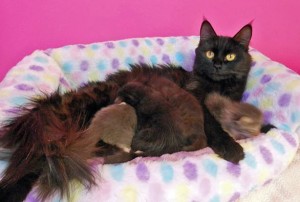 Matilda was trying to raise her kittens, in the streets in this kind of heat!! Imagine!!
Luckily they are safe and sound with Meowness now! However, they sure could use a bit extra help to get everybody some vet care and spay and neuter surgeries!
If you can spare a buck or two, any donation will help! You can directly donate on the Meowness website!
We are sure they'd be very grateful!