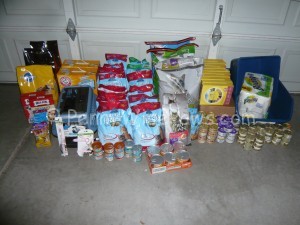 Last night we sent the human to Meowness with $ 580 worth of supplies.
We only paid $92 OOP, although we had two litterboxes in there, a harness, a leash and a top door carrier in addition to the regular pet food and cat litter.
There are two reason we got these items so cheaply. The Meowness kitties had asked us to return an item that Petco mistakenly had sent to them.
The credit from that item paid for one of the litterboxes and the bling, bling harness and leash.
We also had a bunch of reward dollars to use up, which helped a lot with the carrier. It's really hard to get a decent deal on a dual door carrier! So %off coupons combined with rewards dollars is the best way to go!
Plus the large bag of Pro Plan was an oops bag, totally lucked out on that one!! Human was doing a happy dance in the store 😉
All in all we are are very happy with this donation. We wanted it to be a bit bigger than usual, because March is our "Gotcha Month", the month when we both adopted our humans, which gives us even more reasons the thank the folks at Meowness for continuing to rescue kitties like us and dogs too of course!