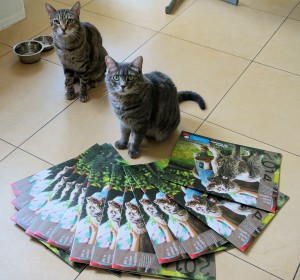 Wowsers and Meowsers friends, we are all giddy here!!!
Remember our plans for yesterday included lot's of chilling in the backyard?
Well, the human had to go to some humanist meeting first and on the way home we sent her to a Petco in another area of town!
Guess what she found???? Bunches and bunches of more calendars. How cool is that!??
Yes, it's May now and some coupons are expired by now, but with all the markdowns the one's that ore not expired, are still so worth it!
So make sure you keep an eye out, these were marked down to $2 a piece! Go here to see a list of coupons in there!
We can't wait for the kittie stuff to go on markdown!
The human also scored some more clearanced dog food, but with these extra coupons, we can – you guessed it – send the human shopping for MORE to our favourite store!!
After that, it's back to regular scheduled chillaxing in the backyard!