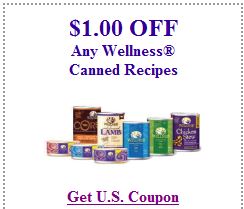 Yay we received our January Newsletter from Wellness with our 1/1 wet food and 3/1 dry food printables!!.
Check your emails! We cannot share ours, as the coupon is personalised and will print with your email on it! If you are not a subscriber you can sign up here!
The 3oz cans of cat food are currently on sale at Petsmart for 1.20 so only 20 cents after coupon!
If your store carries the 6 oz dog food cans, these are 1.89 right now, so 89 cents after coupon!