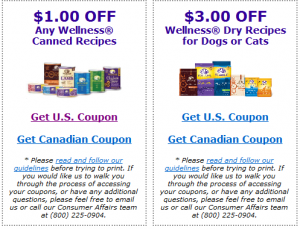 We received our new monthly email newsletter with the 1/1 wet food and 3/1 dry food printables!
The 5.5 oz cans of cat food are currently on sale for 1.60 so only 60 cents after coupon, the 12.5 oz of dog food are on sale for 2.30 so 1.30 after coupon at Petsmart.
Smaller cans are 1.49 for cat and 1.39 for dog food, but as this coupon has limited prints you are getting better value from the larger cans on sale.
Dry food starting at 11.99 for cats and 13.99 for dogs at Petsmart!