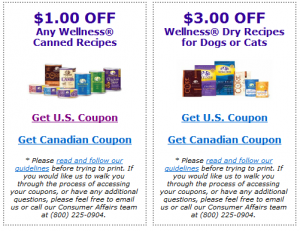 We received our February Newsletter from Wellness with our 1/1 wet food and 3/1 dry food printables!!.
Check your emails! We cannot share ours, as the coupon is personalized and will print with your email on it! If you are not a subscriber you can sign up here!
The 3oz cans of cat food are currently on markdown at Petsmart for 0.87-1.07, so you can put these coupons to use right away!
We also saw dry cat food for 8.47, so this coupon would bring it down to 5.47, great deal for a high quality grain free food!
We also have a 5/1 printable, in case you missed it a few days ago!
If your Petsmart carries the 6 oz dog food cans, these are 1.39 right now, so 89 cents after coupon!
You can also take your coupons to Petco where we have a 10 for $10 promotion going on right now, but you MUST buy 10 to get that price!