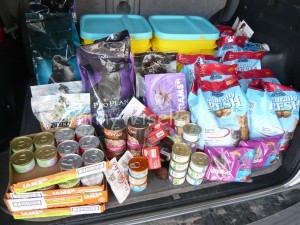 Yesterday we sent the human to Petco and Petsmart.
Between several different stores, she did 8 transactions all in all.
We have about 237 $ worth of stuff and paid just under $32 for all of this.
The human used a few Petpals rewards for the marked down Star Wars items and the Wellness cans, which are for us.
We have this funny feeling, she may have some devious plans with the Princess Leia and Yoda thingies….we will try to convince her that these absolutely must be donated.
We did the awesome Blue litter deal a couple of times and Petsmart had the big tubs of Tidy Cats litter for 11.99 (we had $5 coupons for those as well).
The Iams cans were marked down even further and the Pro Plan dog food was marked down to 10.87 with peelies for  free cans on them. So we could get these using the new 5/1 MQ and a 5/1 competitor Q, as well as using the new 8/1 high value printables. You very well can get these for free or close to free without using the Free Pro Plan printable.

All in all we are pretty happy with the human, despite the Star Wars outfits. We wanted to stock up a bit, as there's rumor that the human may be going out of town again.