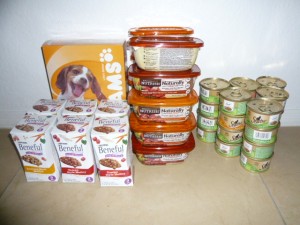 Thanks to the kindness of our buddies Joey and Chiro we had some Rachael Ray and Target Sheba coupons to use this weekend.
The human finally has a few more coming from trades, but it was difficult to get trades for those, especially the Rachael Ray.
We did send the human to Walmart and Target this past weekend and she pretty much only paid tax on the items pictured.
The Rachael Ray were better than free with the 2.50/1 coupon and the extra actually paid for a bag of kitten chow (not pictured) and few more cans of Sheba.
The rest of the Sheba were free at Target after BOGO Sheba Target coupon stack with BOGO peelies from the cans from previous purchases.
We had B2G1 Target coupons (booklet inside the special packages a while back) and B1G1 Manufacturer coupons (from a trade) to stack for the Beneful so we only paid for one (they are 1.87 each) and the Iams was only 1.99 and we had a 3/1 coupon for that from a trade, so the extra from the Iams paid for part of the Beneful cans.
We are quite proud of this trip and very grateful to Joey and Chiro!