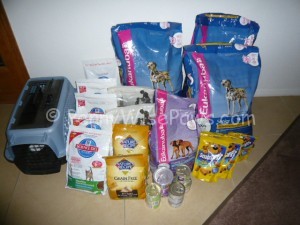 $ 157 worth of supplies and food for $20 (non-marked down retail would have been 296$)
We were not happy that the human was out all week, as we had quite a few coupons expiring 8/31 and 9/1, including a 5/25 that Lipstick's human (yes his name is Lipstick!) gave us and several Petco Pals Rewards that we had earned!
So we send the human shopping at two Petcos  this weekend and also sent her to Family Dollar for the Snausages!
The pet carrier is on MEOWNESS kitties' wish list. We used our rewards dollars on this item and paid 11$ incl tax after all was said and done.
The Eukanuba Senior was marked down to 3$ from 36.99!!! Human had a 2/1 calendar coupon!! Pretty stoked about this deal!
The small Eukanuba Puppy bags were only 1.20 and two of the Science Diet were marked down to only $3 (regular priced bags start at 9.99).
We were pretty happy with our results and let the human take labor day off!! But we still need to send her out sometime this week to look for markdowns in another store!!