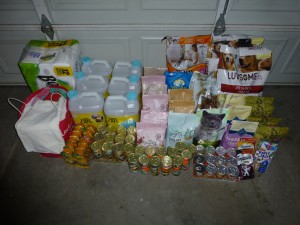 Last night we sent the human to the Meowness kitties with our September donation.
This drop off was a bit smaller than the last few ones, as we have not had a ton of time to send that human shopping lately!
The items pictured are valued at $ 369 and we roughly paid $74 out of pocket!!
The human got to meet all the cute newbies at Meowness, Celeste, Reece, Riley and Zeke and came home covered in cat hair, as usual!!
We have to up our game a lot over the next few weeks, so these guys can get something in their tummies. Luckily the Meowness kitties handed the human a bunch of really good coupons,
that we can turn into some goodies for them. Thank you guys!!
If you want to contribute a dollar or two to their spay and neuter surgeries, you can do so here!
We know they highly appreciate any donations!