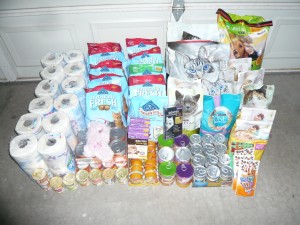 Last night we sent the human to the Meowness kitties with our April donation.
The items pictured retail for about $420 and our OOP was roughly $81.
The human arrived just in time to meet the three latest Meowness additions, who had been rescued by a brave soul from a dumpster just hours before.
Our friends at Meowness are currently holding a fundraiser to help pay for all the spay and neuter surgeries they have coming up over the next few weeks and there'll be LOTS of them.
So if you have it in your heart to help and can spare a dollar or two, we are sure our buddies at Meowness would appreciate the support!
The fundraiser page can be found here!
They usually don't ask for help much, but they are a small volunteer only organisation and have a much harder time to raise funds than some of the larger shelters do.
With the new arrivals the kitten count is up to 12 and kitten season has barely just begun!