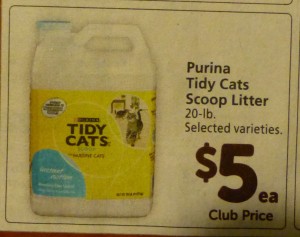 Safeway has been good to us lately in the kittie litter department and they have another $5 deal for Tidy Cats coming up tomorrow on the $5 Friday deal.
This means you can ONLY get it on Friday.
We have a 1/1 Purina Tidy Cats Brand Cat Litter, Any Package – 07-27-14 RP  insert coupon to use making it only $4 after coupon. However we know of $2 peelies out there and even some of you guys make have $3/1 catalinas.
In any case, come Friday do check your J4U account to see of you scored a $/$$ E-Coupon to sweeten the deal!!
YAY for kittie litter, our furriends at Meowness will be happy!