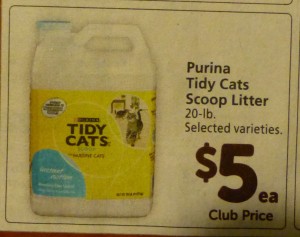 Woot!! Safeway has kittie litter on the $5 Friday deal again this week!
ONLY on Friday 8/22 you can get a 20lb jug for $5!
Use
1/1 Purina Tidy Cats Brand Cat Litter, Any Package – 07-27-14 RP
to score it for $4 after coupon!
Some of us have $2/1 peelies or $3/1 catalinas, which will make for an even better deal!!
Also, don't forget to check your J4U account to see if you have a 5/20 or 5/30 coupon, to sweeten the deal!