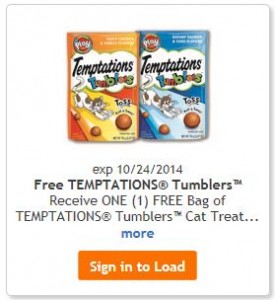 If you downloaded your FREE Temptation Tumbles cat treat ecoupon for Frys a couple of weeks ago, when it came out, make sure so redeem it by tomorrow 10/24.
Freebie Friday deals have to be loaded the day they are made available, but can be reedemed up to two weeks later.
Our human often forgets she has freebies on the card, but as these will be appreciated by our buddies at Meowness, we made sure she did not forget to redeem this one!