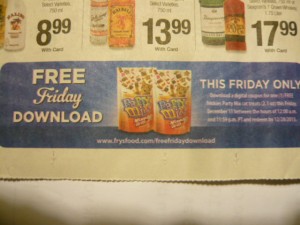 Frys has this Free Friday Download thing that you can load to your Frys card.
Once downloaded you have two weeks to use your free ecoupon, but it's only avaialable to load on Friday.
Now this Friday we have a FREE FRISKIES cat treat!!! YAY!! Finally something pet related, in the past it was all human stuff and we missed most of the downloads.
But as we are planning on sending the human to Frys this weekend, this will work great for us!!
Head over here on FRIDAY to load your FREE Friskies coupon on your card!