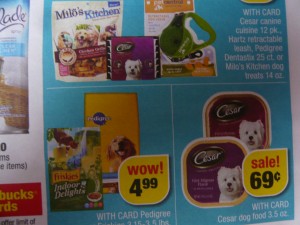 If you did not get around picking up Cesar trays on sale for 69 cents at CVS earlier this week, tomorrow 3/22 is the last day to get this deal.
We have a 1/2 Cesar Canine Cuisine Trays, Any Variety – 03-02-14 RP, making them only 19 cents each, wyb 2
Even better if you have a $/$$ CVS store coupon or Extrabucks to spend.
While you are at it, please consider picking up some cleaning supplies for the pet shelter of your choice: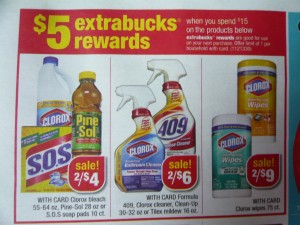 Many shelters have Clorox and Pine-Sol on their wish list. AZSDR, one of the shelters we donate to, goes through insane amounts of Bleach and Pinesol, so they are usually super thrilled if we have some to donate.
CVS has both Pinesol and Cloro for $2 each with $5 Extrabucks back wyb $15 worth of cleaning items.
There are printable coupons for the Clorox out:
Right now there are no prints for Pinesol, but there are hangtags and tearpads out.
Some very lucky folks have found 5/5 Clorox tearpads at Walmart and there are 0.55/1 Pinesol coupons on that same tearpad.
We also  know of 0.50/1 Pinesol hangtags that some of you may have.
If you have some of the nicer coupons and a 4/20 this would be a good donation supply scenario:
3 Pinesol = $6
6 Cesar = 4.14
Total 20.14 plus tax
use 4/20 CVS (received by email)
use 1x 5/5 Clorox
use 3x .55/1 Pinesol
use 3x 1/2 Cesar
= 6.49 after coupons +tx
and receive back $ 5 in Extrabucks, so only 1.49 plus tax after all is said and done