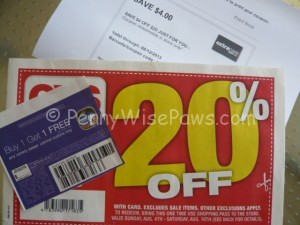 If you are a CVS shopper, check your Email RIGHT MEOW!!!
We received a $4 off 20$ by email valid through 8/12 and some of our superlucky friends even received a 3 of 15$ CVS store coupon per mail!!
PLUS, in this weeks ad (not in store!!! only in the one you received in your Sunday paper!!) we have a 20% off coupon, that can be applied
to anything that is NOT on sale. And luckily (ha!)  for us neither CESAR trays nor SHEBA cans are on sale this week.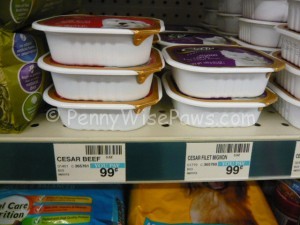 Cesar is 99 cents per tray and Sheba is 87 cents per can.
Let's assume you have a 4 off 20
Buy 22 Cesar trays = 21.78
use 4 off 20 = 17.78
use 20% off = takes off 3.56
use 11 BOGO Cesar= will take off 0.99 x 11 = will take off 10.89
pay 3.33 $ plus tax after all Qs or 15 cents per tray
NOW IF (!) you are one of those lucky ones who's CVS will let the Qs autoscan, you will end up paying 1.13 plus tax, as the coupons autoscan at 1.19!!!
So that will be just 5 cents per tray plus tax!!  But not all CVS will allow this so it's VERY YMMV!!!
Similar scenario can be had for the Sheba
Buy 24 cans at 0.87 each = 20.88
use 4 off 20 = 16.88
use 20% off = takes off 3.37
use 12 BOGO Sheba (found on cans or from last CVS sheba deal)= will take off 12*0.65 = 7.80
pay 5.70 $ plus tax (note that the Sheba peelies found at CVS are only up to 0.65 cents value anyways)
But 5.70 for 24 is only 24 cents a can, so if you have some Extra Bucks to burn, that's a good deal!
You can of course mix and match both types of foods or throw in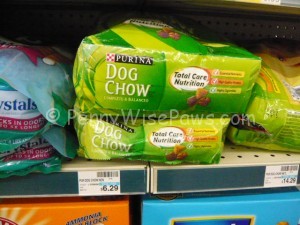 Purina Dog chow 6.29, use $2/1 Purina Puppy Chow, Dog Chow, Active Senior 7+, Healthy Morsels or Little Bites, 4 lb 07/28/2013 RP Insert (exp 10/26/2013)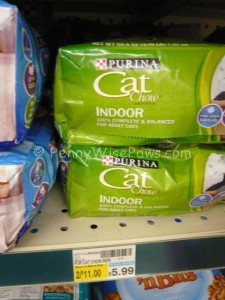 Purina cat chow 5.50 wyb 2 use  $1/1 Purina Cat Chow, 3.15 lb 06/30/2013 SS Insert (exp 09/30/2013)
Or find some CVS freebies or other non pet food deals that will help you get to 20$, 15$ or whatever threshold you need to reach,
for some awesome deal ideas, we recommend the CVS Matchups on TheCentsableShoppin
You can also hold on to your $$ off Qs and your dog chow Qs through Sunday and do this deal if you prefer,
but then you won't be able to use the % off store Q on top!
In any case WE know, where we will be sending OUR human TONIGHT 😉